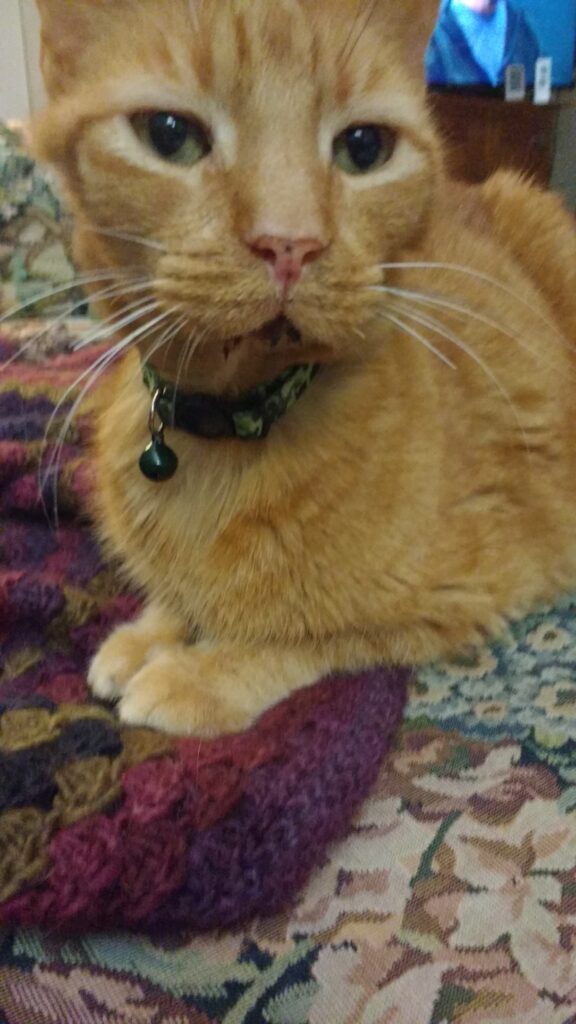 After about a month of syringe feeding, we noticed that Bert was licking out the little bit of milk that was left in the breakfast cereal bowls. My cats are discouraged from get on the kitchen counters, but we've relaxed lots of rules around here ever since Bert got sick.
I stopped by the pet store the following Monday and spent a lot of time perusing the cat food aisles. All along, Bert has been eager to lick the gravy from any canned cat food we opened for him, leaving the shredded pieces or morsals for his brother Ernie to clean up. I  hoped to find a hearty gravy only type of food at the pet store, but only saw gravy packets or "toppers" to pour on top of dry food, these packets are hardly enough to sustain a cat, much less to help a cat gain weight (Bert lost a quarter of his original body weight in the 10 days after surgery).
In the weeks of syringe feeding, I have tried many things to get him eating on his own, laying out a buffet of pungent foods every morning, only to wind up spooning most of the buffet into the garbage that evening. I have ground up his favorite dry food with chicken broth in the food processor, creating a soupy, stinking goo that he was very interested in, but that he would only lick at for a few minutes before walking away and leaving it to go rancid. I have heated his buffet of foods in the microwave, creating a tantalizing aroma which brought him running to see what delights were being placed on his buffet, only to turn away after a few moments of serious sniffing.
And so for 4 weeks I picked him up each morning and each evening, carried him into the basement bathroom, closed the door, dampened a rag (for cleanup), filled the syringe with watered down A/D cat food – amazing stuff, but only available by prescription so costs some $$$ and not readily available – and pushed the syringe into his mouth. Luckily he accepted that mode of feeding and didn't fight it too much. When I took him to the vet a few weeks ago to have all of his stitches removed, he had only lost .1 of a pound and was holding fairly steady at 9 lbs . . . and there was no sign of the cancer's return.
Thank goodness for small favors, for in the early days of his recovery – the first days after I brought him home with his greatly altered lower jaw – he didn't understand that he had to learn a new way of eating and drinking. He would reject the syringe, run away from me, hide under the tables, boxes and doodads that fill the basement. I would grab him and hold him tight while he fought against my embrace, scratching me and eventually getting loose and running to hide again. I changed my tactics somewhat…he HAD to eat, to drink, to get his antibiotics. So I enlisted my husband into the struggle and we'd try holding him tightly wrapped in a towel but that didn't work so well either. I was stressed out, Bert was stressed out, and hardly any food was being eaten.
At night I dreamed about ways to get food into him and woke up one morning with a new plan. Instead of attempting to restrain him I decided to give him some space. So I stopped trying to force the syringe on him. Instead I brought him into the bathroom, placed him on the toilet seat and offered the syringe to him. Surprisingly, he calmed down, accepted the syringe and when he realized I was feeding him, he got a little greedy. Oh joy! He was eating!
It was messy and slow and discouraging to see the food falling out of what used to be the bottom of his mouth, but I learned to take it slow and easy, tilting the syringe back in the side of his mouth, to place the tip above his tongue so all he had to do was swallow. It worked and his weight stabilized. I suspected he was drinking some water on his own during the day when I was at work, although not from the expensive water fountain that I bought to attract him to drink. I have yet to see either of my cats drinking from it.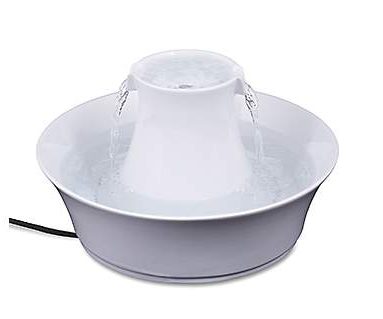 Instead he preferred to drink water from  the dogs' water bowl in the kitchen. We would see him standing at the water bowl, lowering his chin into the water.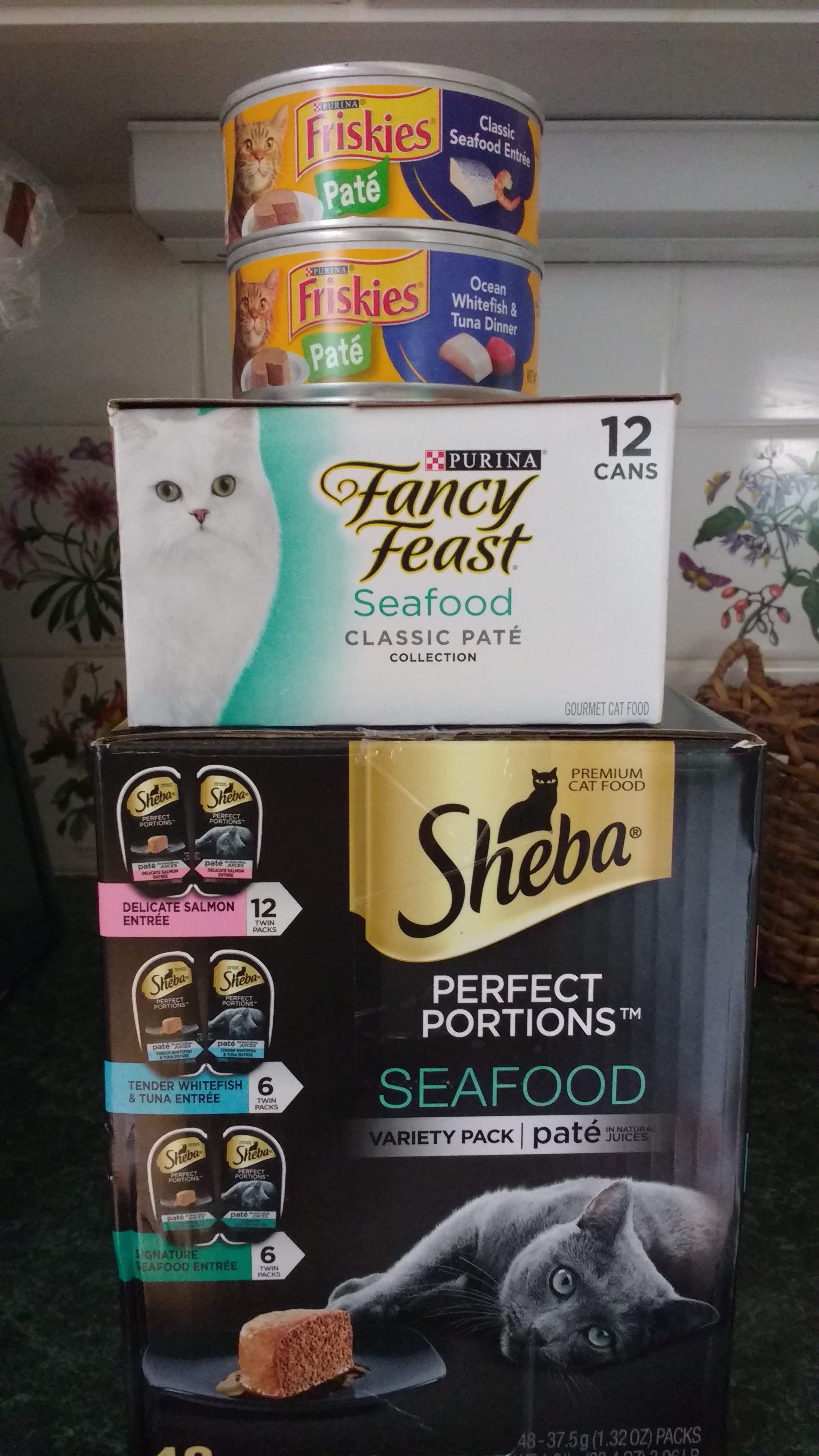 Over the last month, I've made regular trips to the cat food store. I know the aisles intimately.  I've brought home samples of Sheba Perfect Portions, Fancy Feast Classic Pate, Meow Mix Classic Pate, Delectables Stew Lickable Treat, and I bought a case of the A/D cat food from the vet.  With each opening of a can or envelope, there's been encouraging interest, where he'd eagerly lap up the contents for a few minutes, then lose interest and walk away.  It has been discouraging and a week ago I had to resort to syringe feeding him some of the A/D.
Last weekend, I had another idea and went out and bought a small blender (I have a Vitamix blender, but it's really too large for blending up small meal sized portions of cat food – any success I'd had with Bert eating this stuff was only when something was freshly opened or blended).  I bought the Magic Bullet – and it's working!  For the last couple of days, I've opened up a can of cat pate, put a teaspoon or 2 of water into it and blended it up in the Magic Bullet.  He's eating it and I'm so pleased. I am hopeful that the Magic Bullet is the silver bullet I have been searching for to get Bert eating on his own again.