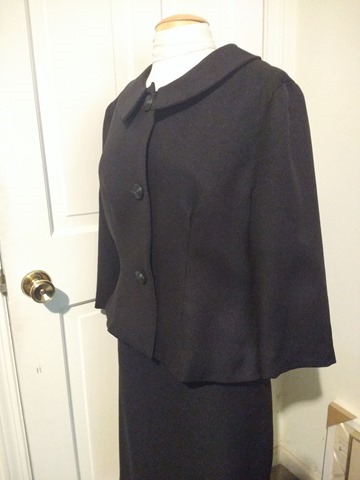 I recently sewed this lovely ensemble which consists of a jacket and a matching top and skirt. This was my most ambitious sewing project todate. I have always flirted with the idea of sewing a lined suit, had even bought a pattern and fabric long ago to sew one, but kept getting intimidated at the thought of it.
Patterns used:
Butterick 5235 (Jacket & Top)
McCalls 3341 (skirt)
Fabric:
100% Polyester Crepe Suiting & Bemberg lining fabric
The Jacket
I really liked the way the jacket looked the first time I saw the pattern. It is a professional yet feminine jacket and I liked the retro look of it.
Since this was the first time I had lined a jacket I followed all the pattern instructions meticulously. The sewing instructions were very clear and, even though there was quite a lot of hand sewing, the jacket was easy to sew. Some of the hand sewing I'm referring to is due to my own caution, choosing to hand baste many of the seams before sewing the permanent seam. But the instructions also had me hand sewing the sleeve linings into the garment. I genuinely enjoyed all of the hand sewing that was required.
The Skirt
McCalls 5235 is a simple a-line skirt. I lined and added a vent in the back center seam. When I tried it on, the skirt was too much of a bell shape so I tapered the side seams, starting about 9 inches up from the hem, down to the hem by about an inch on each side.
The Top
I didn't originally plan to sew the matching top, but after I finished cutting out the jacket and skirt, I had about a yard of fabric left over which was just enough fabric to sew a matching top. When I wear the skirt and top together, it gives the illusion of wearing a dress, and I can wear them with some of the other jackets I already own.
I like the flexibility of having two separate pieces that I can mix and match to clothes I already own.