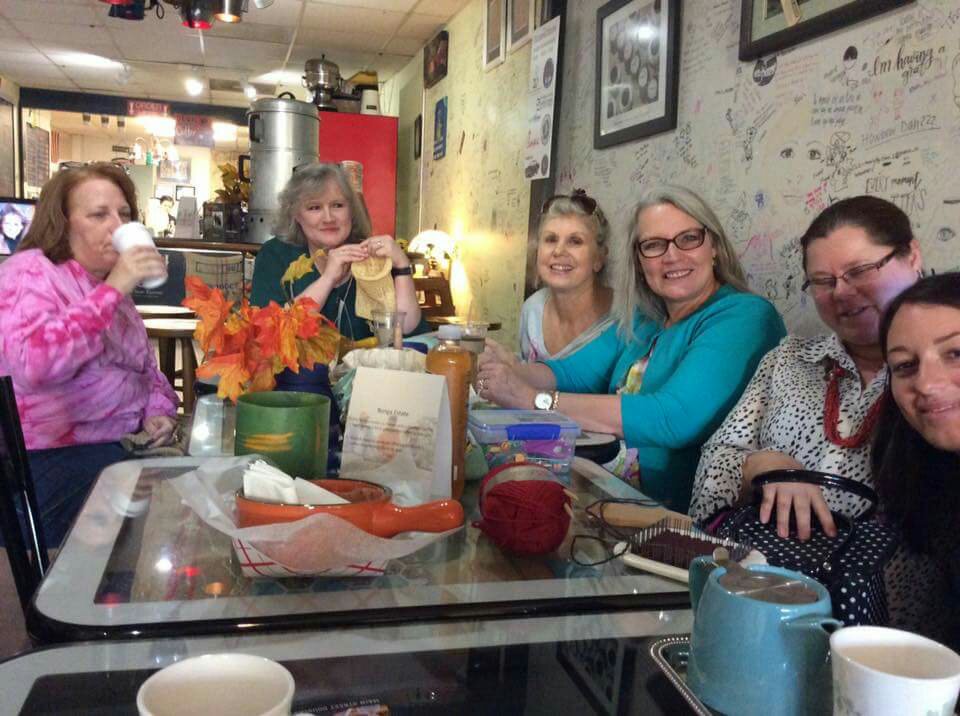 The NeedleNerds are a friendly group of knitters, crocheters, tatters, spinners, weavers, embroiderers, needlepointers, and all around needlers who live around Douglas County, Georgia. We welcome stitchers of all skill levels. Our meetings are informal and there are no membership fees. Beginners are always welcome! You can get to know us a little by reviewing our timeline, by viewing our photo album on Flickr and by following us on twitter.
Meeting Schedule
Evening Meetings: We meet at 7:00 pm on the first Monday of every month except for Mondays that fall on or near a holiday weekend, like New Year's, Independence, or Labor Day, when we meet on the second Monday of the month.
For the foreseeable future, we'll be holding all of our evening meetings via ZOOM on the first Monday of every month from 7:00 pm – 9:00 pm. I will email all NeedleNerds who subscribe to blog posts an email a few days before a meeting with ZOOM link and login information that is necessary to join the meeting.
Due to security concerns, every meeting requires a password to participate. If you don't receive an email about an upcoming meeting, you can check the NeedleNerds Timeline for this information, but you'll also need to send me an email (needle.nerds at mindspring.com) to let me know you would like to attend. I will then email you all of the information you'll need to join the meeting (including the password).
Daytime Meetings are currently suspended until further notice.
Our meetings are informal, casual and friendly, so just grab a chair, your favorite refreshment and join in on the conversation.
I send monthly reminders to the NeedleNerds email list, which you can join by clicking this link, and you can follow the NeedleNerds on twitter to stay up-to-date on meeting announcements and other activities.
Learn More & Connect with the NeedleNerds
Click here to read more about the NeedleNerds
Connect with us on Twitter and Ravelry by clicking on the icons below.