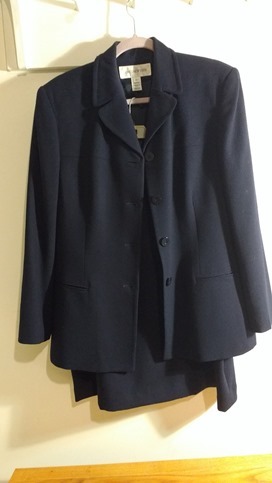 I've had a Jones New York 100% worsted wool navy suit (jacket & skirt) hanging in my closet for at least 15 years. The last time I wore the suit was 8-1/2 years ago to my Mother-in-Law's funeral. I liked the jacket, but never liked the skirt…..the skirt was a too long ankle length a-line skirt that had scooped pockets that popped open every time I moved, and it wasn't lined so I found it to be quite itchy and uncomfortable to wear. The long a-line style was matronly and made me feel like a Christmas tree whenever I wore it.
I recently started a job search and needed a couple of professional looking interview suits. The suit jacket doesn't have huge shoulder pads and has a fairly classic style so I think it will be fine to wear to interviews, but I needed to do something with that awful skirt. I thought about removing 8 or 10 inches from the bottom of it and hemming it to a shorter, more modern and attractive knee length, but that alone wouldn't fix those annoying pockets or the itchiness. The skirt had been hanging in my sewing room for months and the more I looked at it, the more I knew I needed to do something a bit more radical than just shorten the hem……so I carefully removed the zipper and the hem, cut out all the seams and had enough fabric to cut out and sew an entirely new skirt. Recycling the fabric into a new skirt ensured a perfect match between my new skirt and the existing jacket.
For this project I used McCall's 3341, which is a pattern for a-line skirts in five lengths with front and back darts, a back zipper closure, faced waistline, and a back slit (in the longer Versions A & B). I sewed the knee length version of the skirt (Version C). I chose McCall's 3341 because it's a classic skirt pattern that will never go out of style. I don't care for elastic waistbands and prefer faced waistlines over waistbands because I think they are more comfortable to wear, are easier to sew and alter, and provide a better fit.
Sewing Notes
I think anything that is sewn in wool needs to be lined to make it comfortable, so I decided to add a bemberg lining to the skirt. The pattern does not include lining pieces or instructions, so I followed some directions about lining skirts that are included in the classic book, "Easy Guide to Sewing Linings" by Connie Long (I bought a used copy of the book last Fall and it's been a real godsend!).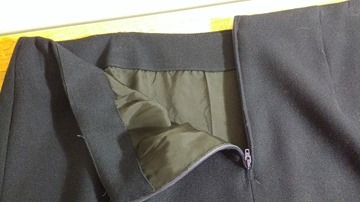 I want work clothes that inspire confidence and that are comfortable throughout the day and during all aspects of my working life (commuting to work, sitting on airplanes, sitting in meetings, standing for presentations, etc.), so I choose classic styles that aren't too fussy or too tight….. My work skirts need to fit well but have enough ease to float over my hips, so I cut out a size 18 (which is the largest size the pattern goes) and added a 1/2 inch to each side seam to allow for more wiggle room. When finished, the skirt was bigger than needed, but easy enough to alter down to a better fit.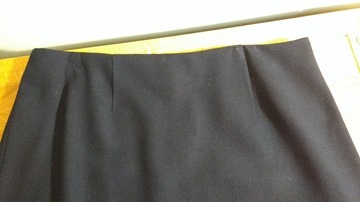 I had hoped to add a real kick pleat/vent to the back seam and had already worked out the necessary pattern alterations, but when I was laying out the pattern pieces on my recycled navy wool, I did not have enough fabric to add a kick pleat/vent. I had just enough usable fabric to make the skirt I wound up sewing. (I'll add a kick pleat the next time I sew this pattern).
l had used the pattern once before when I sewed my black interview suit, so I was confident that the skirt would fit when I cut it and sewed it out of the recycled Jones New York wool fabric (there was no room for mistakes here). I will definitely use this pattern again to sew more skirts as inspiration arises or as needed. I think every woman needs a nice A-line skirt in her wardrobe at least every now and again, so I recommend the pattern to anyone who does not already have an A-line skirt in her pattern stash.
| | |
| --- | --- |
| Pattern | McCall's 3341 |
| Fabric | 100% worsted wool |
| Difficulty | Easy & Fast Sew |
Concluding Thoughts & Reflections
Sewing simple A-line or straight skirts isn't usually very exciting or sexy, but I was very excited about this project and I'm thrilled with the results. I want to avoid buying new clothes just because my old clothes don't fit or look right. Coupling that desire with a great skirt pattern that is very easy to sew and won't go out of style made for a very satisfying sewing experience…..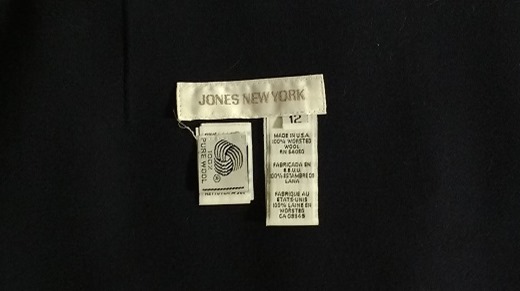 I've still got all the labels from the old Jones New York skirt…should I sew them back into my new and improved skirt?…..naw! I'll take full credit for the new and improved version of this skirt!