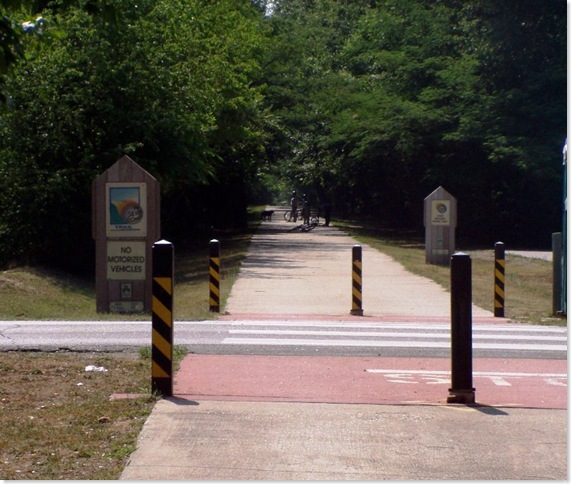 Biking on the Silver Comet Trail is a wonderful way to spend the day with family or friends.
Starting in Smyrna, GA, the Silver Comet Trail spans over 60 miles, running through Cobb, Paulding and Polk counties. By the end of summer 2008, the Silver Comet Trail will connect to the Chief Ladiga Trail at the Georgia/Alabama state line, extending the trail another 100 miles and terminating in Anniston, Alabama.
The Silver Comet Trail is a great place to ride, walk or jog. The paved, mostly flat trail, spans some beautiful and scenic vistas and you can ride as far as you want without having to worry about cars. (The picture above is looking West from the Hiram, GA trail head)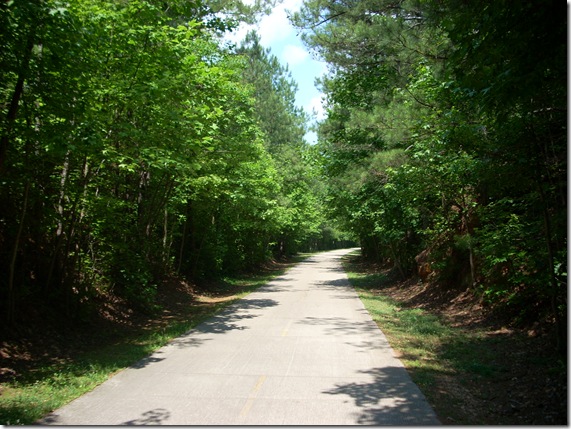 The nearest trail head is about 10 miles North of downtown Douglasville in Hiram, Georgia (Paulding County).
From the Hiram, GA trail head, you can head East toward Atlanta or West toward Alabama. Heading West will take you through the nicest scenery.
Amenities
Benches are placed at various locations along the trail and there are plenty of rest stops with well maintained and clean rest room facilities located all along the trail.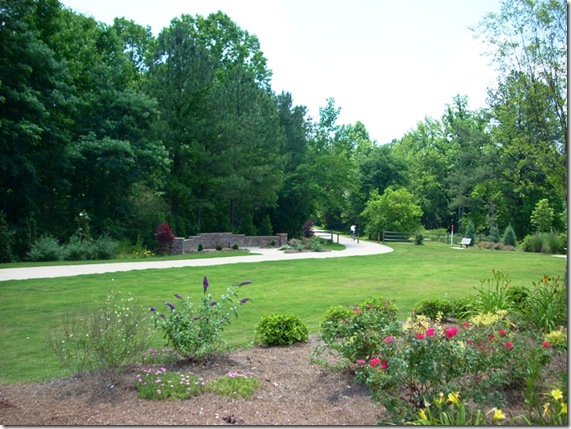 There are water fountains at rest stops, but the last time I biked along the trail I noticed that many of the water fountains were turned off (probably as a water conservation measure), so be sure to bring plenty of water.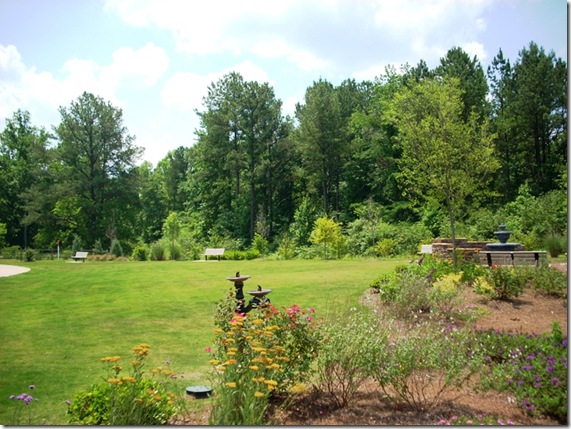 If you head East toward Atlanta, you'll pass some industrial areas and you will find some places along the way where you can stop for food – I remember passing a McDonalds. Heading West toward Alabama will take you through some beautiful countryside, but you'll find little, if any, options for food along the way. If you plan to make a day of it, think about packing a picnic lunch and stopping at one of the nice parks.
Directions to the Hiram trail head
397 Seaboard Avenue
Hiram, GA 30141
From the Bankhead Highway in downtown Douglasville, drive North on GA 92 for about 9 miles.
Turn right on Oak Street (there is a traffic light at this intersection).
Drive about 1/2 mile, and turn left on Seaboard Avenue
Take Seaboard Avenue for a few blocks to the parking lot (Seaboard Avenue runs across the parking lot and you can park to the right or left of Seaboard Avenue).
To learn more about the Silver Comet Trail, see
Additional links