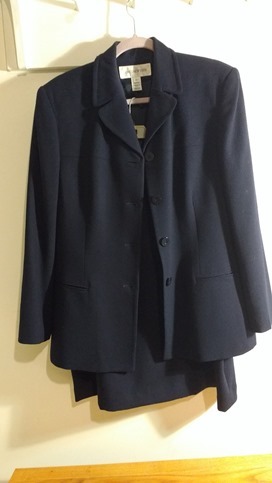 I've had a Jones New York 100% worsted wool navy suit (jacket & skirt) hanging in my closet for at least 15 years. The last time I wore the suit was 8-1/2 years ago to my Mother-in-Law's funeral. I liked the jacket, but never liked the skirt…..the skirt was a too long ankle length a-line skirt that had scooped pockets that popped open every time I moved, and it wasn't lined so I found it to be quite itchy and uncomfortable to wear. The long a-line style was matronly and made me feel like a Christmas tree whenever I wore it.
I recently started a job search and needed a couple of professional looking interview suits. The suit jacket doesn't have huge shoulder pads and has a fairly classic style so I think it will be fine to wear to interviews, but I needed to do something with that awful skirt. I thought about removing 8 or 10 inches from the bottom of it and hemming it to a shorter, more modern and attractive knee length, but that alone wouldn't fix those annoying pockets or the itchiness. The skirt had been hanging in my sewing room for months and the more I looked at it, the more I knew I needed to do something a bit more radical than just shorten the hem……so I carefully removed the zipper and the hem, cut out all the seams and had enough fabric to cut out and sew an entirely new skirt. Recycling the fabric into a new skirt ensured a perfect match between my new skirt and the existing jacket.
For this project I used McCall's 3341, which is a pattern for a-line skirts in five lengths with front and back darts, a back zipper closure, faced waistline, and a back slit (in the longer Versions A & B). I sewed the knee length version of the skirt (Version C). I chose McCall's 3341 because it's a classic skirt pattern that will never go out of style. I don't care for elastic waistbands and prefer faced waistlines over waistbands because I think they are more comfortable to wear, are easier to sew and alter, and provide a better fit.